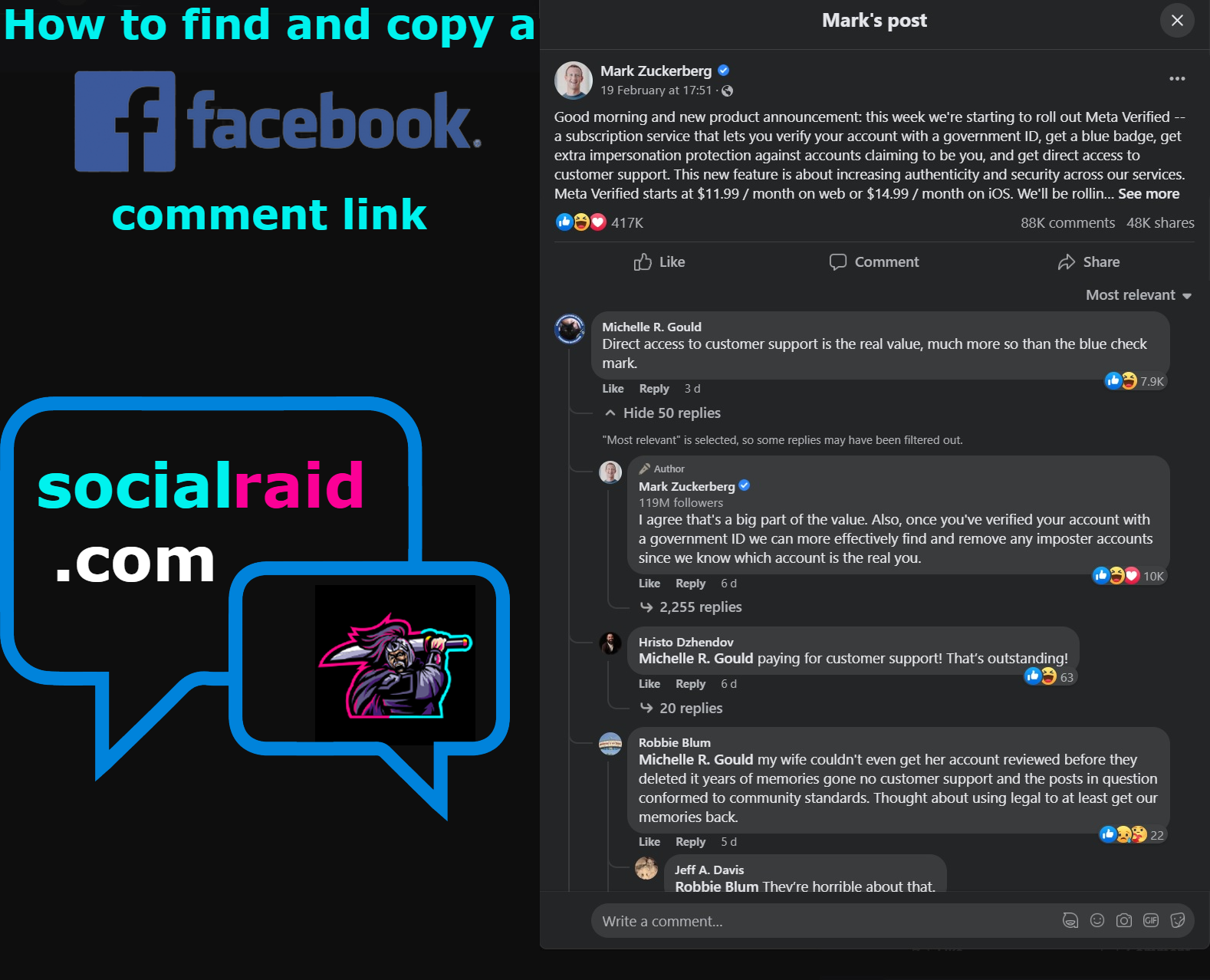 As we all observe the world trends changing day by day very quickly, so we too have to somehow adapt to the new features. If you work in a car repair shop and they bring you new tools you have to learn how to use them. The result will automatically be an increase in your productivity and profits.. So the same strategy is followed by the Facebook company in all its new features.
One of the most important achievements of this social media platform are the facebook comments. By knowing how to use it right, you can attract people to see it and maybe even spread the information wherever you want.
You can very easily reach people to see it only if you know how to use it in the right way and so you can maybe spread important information that you want.
It is now common nowadays, People with facebook personal accounts or with facebook business accounts on the facebook platform use these facebook comment links to send with social media services
¨like those provided by socialraid¨ more likes on the comments they want so that their facebook profiles look important and attractive to the public.
The end result will help to attract more attention from the audience to this facebook comment and facebook users will perceive it as the most important comment to see.
There are a lot of ways of why it is better for you to know how to copy the right facebook comment link.
Let's suppose you want to buy facebook comment likes from socialraid.com which provides such social media services, to make your facebook comment more attractive to the public.
How will the socialraid system know which is the comment you want to increase facebook Likes if it doesn't have the right link in its possession?
Let us emphasize somewhere here that you should not forget that there is always a competition between people and companies.
In our online store, we provide you social media marketing services about Facebook ((including Comment Likes, Post Likes, Followers, etc.)
And you can use the knowledge on how to make your competitor's post or content less attractive , by boosting their comments with Dislikes or even buy and add them bad comments.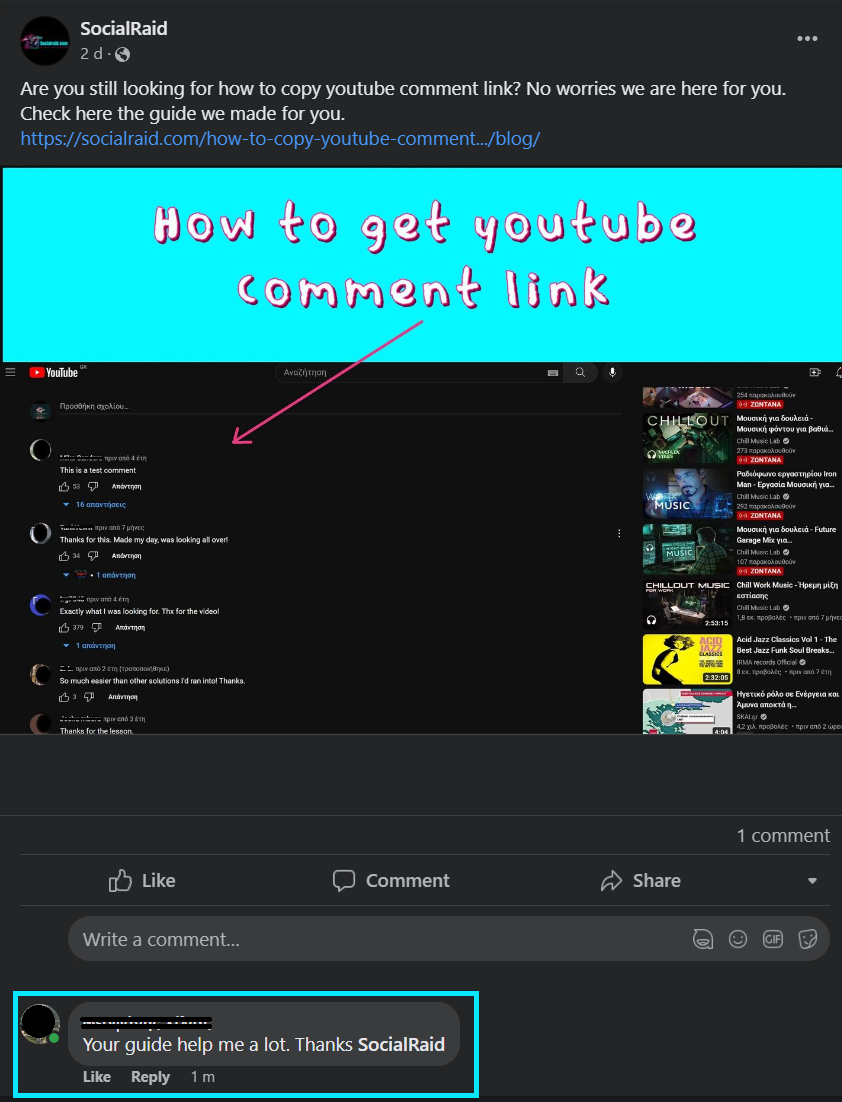 So, how to get facebook comment link, and how can we use it?
Most of times we post an insightful Facebook remark and after that we are trying to add a direct link to that comment on another site or blog.
It was impossible to think in previous years that there could be a direct connection to a Facebook Comment.
Back then all you could do was to copy the link from the whole post page and paste it wherever you wanted, but definitely not copy the link from a specific comment you'd like to display somewhere else.
Fortunately, fb comment's mechanism has changed recently.
Now you can extract a permanent and direct link to every unique comment on a Facebook status update, image, video or anything else you want.
If you look a little carefully at any comment on facebook, what you will see is that each individual comment has next to the reply option a date and time indicating how long ago it was written.
Clicking on the date and time will automatically open a new facebook page in your browser. There it will show you the specific post but this time the comment you clicked will be first in the comments below the facebook post.
The link from the specific facebook comment you selected will appear on the address bar. Now you simply can copy the facebook comment link and share it wherever you want.
Power Tip: A second and faster way to copy the Link from a facebook comment is to right click on the facebook comment timestamp and a menu of options will appear.
In this menu you left-click on the copy link address option without having to open a new page to copy the entire url of the comment from the address bar of your browser.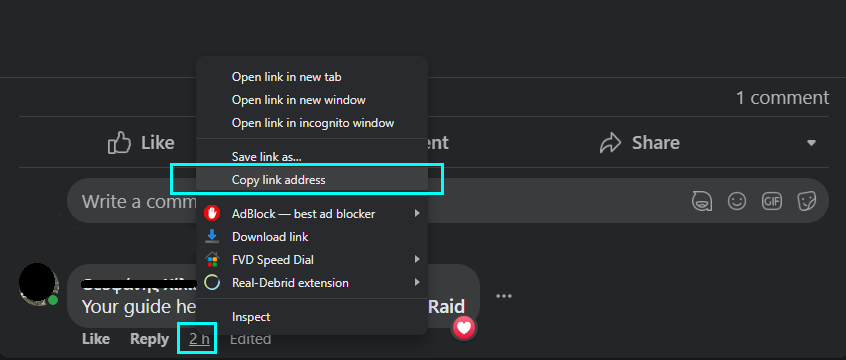 Finally, don't forget that nowadays socialraid provides you with many social media services. So in case you want to become a successful facebook influencer, then it is good to know all the tricks that can promote you a step further in your first steps.
One of the main advantages of our store is the offer of many different social services. SocialRaid provides services for social media platforms such as Instagram, Facebook, TikTok, Twitter, Discrod, Reddit, etc.